Create a Coming Soon Product Waitlist for Weebly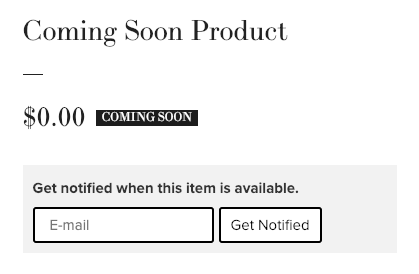 How to get this setup?
Once you sign up for a RestockNotify account, follow the instructions to embed it on your Weebly site. Once this is done, we can now setup your coming soon products.
Setup your "Coming Soon" products
When adding the "coming soon" product to your Weebly commerce shop, make sure to set its stock level to 0. This will cause the RestockNotify widget to display on this product, allowing your shoppers to add their e-mail to the waitlist and get notified once your product is ready for purchase.
Once your product is ready for launch
Once your product is launched, simply update your stock level from 0 to your real stock level (any number above 0) or you can set it to "unlimited" in Weebly if that applies to your product.
Now, all shoppers on your product's waitlist will be notified that your product is in stock and ready for purchase.